Glass Painting Workshop.
Cost: $325 + GST. The course is 2 full days over a weekend. 
Due to our ongoing commissions we are unable to offer the course this year, however please Contact us if you would like to be on the priority notification list for the next class to be scheduled.
The glass painting and staining workshop is held annually over a weekend with a maximum of 6 students per class. Our studio is a full time working studio and so the timing of our class is determined by the volume and size of commissions. This means that our students invariably get to see projects in various stages currently being worked on, but it also means that we can only offer this special opportunity once per year.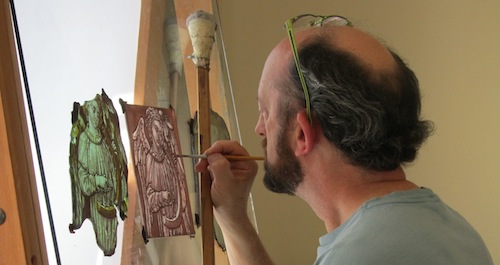 Gilroy Stained Glass is continuing to offer here in Vancouver the acclaimed workshop that they developed in the UK.
You will be taught by members of the British Society of Master Glass Painters; Laura and John Gilroy, and will learn techniques and skills of the professional stained glass artist.
Courses are suitable for beginners and those with experience – learn new skills or hone existing ones. During the course you will focus on glass painting; no cutting, leading or soldering to distract you. Numbers are limited to a maximum of 6 students to ensure individual attention and guidance. Please note that we reserve the right to cancel the course in the event that we do not have a minimum of 4 students.
We will be covering all the traditional techniques of glass painting:
Creating structure and form through line work.
Creating balance of tonal values and contrast of light and shade through techniques of stippling and brush work.
We include silver staining techniques
Your work will be kiln fired at 700 degrees Celsius to ensure permanence.
The course is perfect for both aspiring professionals and enthusiastic novices – a treat to yourself or a memorable gift for someone special!
The course is 2 full days over a weekend  and the fee is $325 plus GST (all materials included) with at least one finished project to take home as evidence of your new skills.
 Contact us to register now.
Student testimonials:
"John & Laura have taken their years of training and experience and distilled it into a glass painting technique that is simple to understand and follow. The class size was small enough that they were able to tailor their tuition to everyone from the raw beginner to the experienced glass artist. All went away satisfied that they gained valuable knowledge. Laura & John are outstanding artists, natural teachers and great fun. It was a memorable experience and I enthusiastically recommend this course."
~ A. Morrison, Vancouver
"If you get a chance to take a course with Laura and John Gilroy, consider yourself very very lucky. Both are amazing artists and excellent technicians. They have unique teaching skills that allow each student to work at their own pace and to learn all of the many techniques needed for this very skilled art."
~T. Calvert, Pender Island
"It is wonderfully atmospheric to learn in a working studio surrounded by the Gilroys' designs and restoration work.  Also, the pre-prepared designs used in class mean that you can leap into the process feeling already-inspired. Whatever your background level with stained glass – you will leave with many new skills, fun memories, and a deepened "insider's" perspective."
~ C. Guay, Delta
"The stained glass painting course taught by Laura & John Gilroy was one of the most interesting and fun education programs I've been in. They are not only a couple of the best stained glass artisans creating inspiring contemporary work using the traditional methods, they also know how to teach the skills well. I highly  recommend this course"
~ R. Silvanen, Vancouver
"Having previously been quite mystified by the art of glass painting, I have come away feeling I can now practice on my own. I appreciate the generous way you impart your knowledge, and clearly everyone taking part found it inspiring being in your workshop surrounded by examples of your beautiful work. I would recommend your class to anyone who is working with stained glass or is an aspiring glass artist. Your outgoing personalities and humour made everyone comfortable and relaxed."
~ M. Billings, Vancouver
"Right from the start I was completely absorbed in this fascinating art form. John and Laura couldn't have been more kind and I am in awe of their raw talent and ability to teach such a wonderful art form. Thank you for sharing such an awesome weekend with me."
~M. Turvey, Vancouver
"I just wanted to thank you for the wonderful learning opportunity this weekend. It was by far the most enjoyable and educational class I have done in a long, long time and in a heartbeat would love to attend any other classes (yes hint hint again!) you may offer."
~L. Fader, Richmond
"Your class was a great introduction for us newbies in the art of glass painting.  It was a lot of fun to share the learning experience with all of the participants under the fine tutelage of both John and Laura of Gilroy Stained Glass, much thanks :). No doubt the above scheduled class in September will be another venue for those of us who are curious in exploring various modalities of creative expression!" 
~J. Jay, Vancouver