The original clerestory windows at St. Mary's were fabricated in the 1950's onward by G. Maille of England, for whom one of our mentors worked at one time.  This meant that the style of design and painting was very familiar to us, and it was natural for us to continue the slightly stylised figures and sharp "glassy" painting that reads strongly from a distance and is especially important for ecclesiastical projects. Each window also contains symbolism and attributes pertinent to the saint depicted; we have to do our "homework" thoroughly to research and discover the best way to portray the subject. Each bay of five windows has been set a month of the year, and each saint depicted in it has his/her feast day in that month. To date we have installed St. Brigid of Ireland, St. Jude the Apostle, St. Augustine of Hippo, St. Simeon The Elder, Florence Li Tim-Oi, St. Francis of Assisi, St. Giles, St. Chad and St. Martha.  It is always a privilege working directly with the benefactors; discovering ways to incorporate elements into the design which reflect the family's life and interests, and provide an enduring testimonial in the church.
"Gilroy Stained Glass has crafted and installed several windows at St. Mary's Kerrisdale. I have been most impressed by their artistic and professional expertise, attention to detail and knowledge. Importantly John and Laura demonstrate genuine care and sensitivity to the benefactors; they know that their craft is about much more than glass."  ~ The Very Rev. Kevin Dixon, Dean of St. Paul's Cathedral London, Ontario. Former Rector of St. Mary's Anglican Church, Vancouver, BC
"I've appreciated being able to use the services of Gilroy Stained Glass for my stained glass window at St. Mary's. Laura and John are personable and respond to client input. Their knowledge of ecclesiastical stained glass comes from a long history of true artisans. I can heartily recommend them for future glass projects at St. Mary's Church. They give their heart and soul to their work….how appropriate of these artists whose work will outlive us all."  ~ Dianne McNair, benefactor of the St. Brigid window.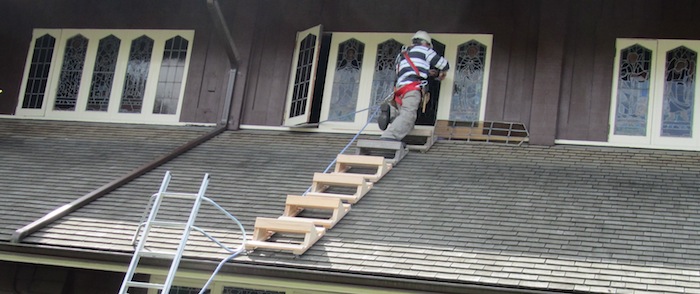 Installation of a north clerestory window at St. Mary's.